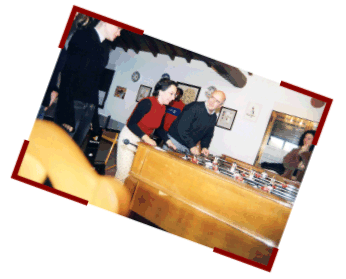 - There'll be at least one party every month where you'll have a good time and get to know the students from other classes and the teachers.

- Going out with the teachers when the time and atmosphere invite to having a good time together. Arifumi, do you remember the matches of table football with Jorge and Akemi, Masa, Hiroki, Kotoko...?

- Visits to different places and institutions of socio-cultural interest, like museums, expositions, ONCE (the National Organisation for Blind People), etc.

- Literary visits to different places in the city that recalls the works and authors who are connected to Salamanca, like Fray Luis, Cervantes, Teresa de Jesús, Unamuno, Torrente Ballester, Carmen Martín Gaite, …

- A tutor who will help you with the doubts you may have after classes.

- Listening comprehension using audio-visual media in the afternoon.

- Spanish films every afternoon upon request.

- Information about all the cultural activities in the city.

- Information and brochures about Salamanca.

- Information about interchange with Spanish students.

- Library, cassettes and videos for the students' use.